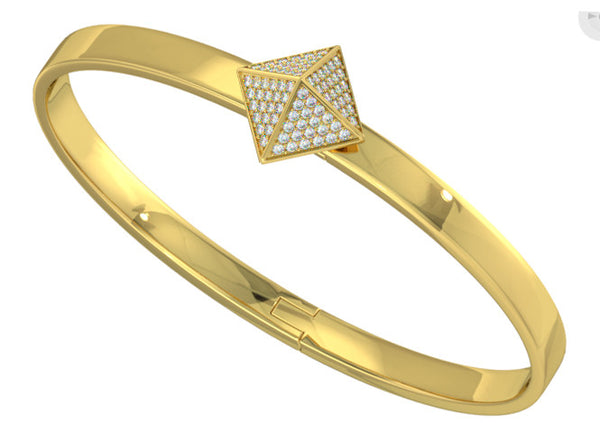 24/7 Support 247@TrunfioUniverse.com
Trunfio Universe™
Yellow Gold Mini Trunfio Universe™ bracelet w/ Diamond pave pyramid
$ 10,200.00
---
PETITE= 53mm Width
SMALL= 58mm Width (fits most)
MEDIUM= 63mm Width
18k Yellow Gold VS2 White Diamond Pave
TUBM1001YG/PAVEPCYG
A CLASSIC STAPLE IN THE WORLD OF FINE JEWELRY, COMPLIMENTING THE WHIM AND ALLURE OF A VIRTUOUS WOMAN. THE TRUNFIO UNIVERSE™ BRACELET IS A MODERN DAY CHARM BRACELET, EXUDING SENTIMENT AND CLASS. THE UNIVERSE BRACELET WAS CREATED TO EMPOWER AND INSPIRE, IT LIVES TO BE ADAPTABLE IN ANY EVENT OF THE DAY.  THE LOCKING MECHANISM IS DECORATED BY AN INTERCHANGEABLE PYRAMID CHARM, SUITED TO THE TASTE AND PERSONALITY OF EACH INDIVIDUAL WOMAN.  WE ENCOURAGE OUR CLIENTS TO BUILD THEIR OWN COLLECTION OF BRACELETS AND CHARMS, AND TO MIX AND MATCH, A SOLID GOLD BRACELET TO RADIATE THE DAY, A PAVE ACCENT TO SPARK SENSUALITY IN THE EVENING. DESIGNED TO EMPOWER, UPON WINDING THE CHARM INTO THE BRACELET, WE ENCOURAGE OUR CLIENTS TO REPEAT THE WORDS THEY LIVE BY, A DAILY RITUAL TO LOCK IN YOUR OWN POWER.
(At Trunfio Universe™ we also offer customers the option of having their own mantra, quote or words of inspiration, laser engraved into the inner face of the bracelet)  
AT TRUNFIO UNIVERSE™ QUALITY IS WHAT WE PRIDE OURSELVES IN . ALL JEWELRY IS HANDCRAFTED BY THE SKILLED ARTISANS OF THE HOUSE OF CERRONE. WE USE ONLY THE FINEST 18K GOLD OR PLATINUM, AND VS2 E-F WHITE DIAMONDS, WITH WORKMANSHIP AND INTEGRITY THAT WILL STAND THE TEST OF TIME. EACH PIECE IS ACCOMPANIED BY OUR CUSTOM BOX, THAT CONVERTS INTO A LASTING JEWELRY BOX, AND A SUEDE LINED LEATHER POUCH PERFECT FOR STORAGE AND TRAVEL. A CERTIFICATE OF AUTHENTICITY IS ASSIGNED ON PURCHASE AND ACCOMPANIES EACH TRUNFIO UNIVERSE™ FINE JEWELRY PIECE.
CUSTOMER SERVICE AND SATISFACTION ARE OUR FOCUS. PLEASE EMAIL US WITH ANY ENQUIRIES info@trunfiouniverse.com
 All jewelry is made to order. Please expect 2-3 weeks for delivery. 
---